If there is a question about each The Fantastic Four fan's mind, that's what's going to happen in the next movie. But, with new statements made by Marvel Studios President Kevin Feige, it partially clarifies what's to come, hinting that the The Fantastic Four the reboot will not be an origin story. Everything indicates that this may not be the typical origin story we all know.
So, as we see, the Marvel Cinematic Universe continues to rock popular culture. They continue to present us with a tapestry that does not stop. These are ever-evolving shows and movies.
Fantastic Four Won't Be an Origin Story, According to Kevin Feige
Image via Marvel Comics
Definitely one of the MCU movies to look forward to on Marvel Studio's upcoming slates is The Fantastic Fourwhere the whole family will enjoy a new cinematic reboot.
Marvel Studios had initially announced the project for the end of 2020. But, we recently learned that it had been postponed, revealing a release date for 2024. It will be directed by Matt Shakman, director of Wanda Vision. And so far, we don't know who will be part of the cast, except for a lot of speculation.
About the plot, Kevin Feige, president of Marvel Studios, said in an interview last month that "the movie won't be a traditional origin story." He told Feige to The Hollywood Reporter, "A lot of people know that origin story." So, "A lot of people know the basics. How can we take that and bring something they haven't seen before? We have set ourselves a very high bar to bring this to the screen. These statements clearly show that The Fantastic Four will not be an origin story.
Image by Gage Skidmore via Flickr Creative Commons
These comments sent shivers down the spines of Marvel fans, especially after the return of Spider Man, because they don't know how these stories will continue. So with still years to go until we see what Marvel The Fantastic Four the reboot will entail, we'll wait to see what the origin story production team does or doesn't take.
In all the previous films, they told the origin story in their own way. In short, comic book superheroes Reed Richards, Sue Storm, Ben Grimm and Johnny Storm find themselves on a space flight gone wrong and accidentally gain superpowers after being exposed to cosmic light and radiation.
The birth of the superhero team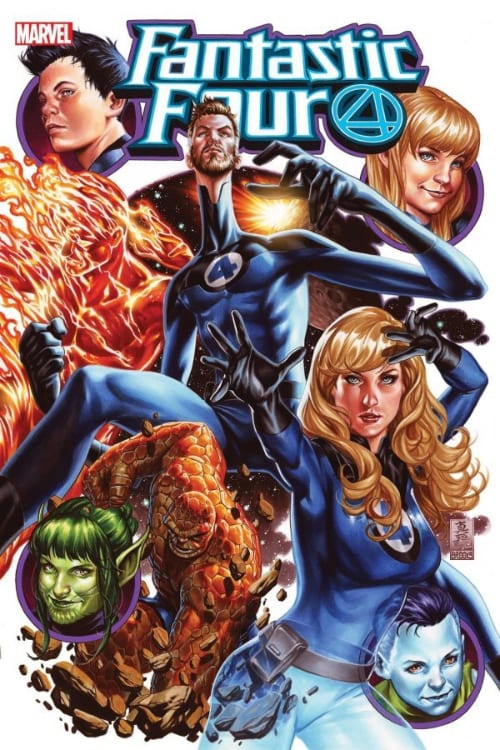 (Picture: Marvel Comics)
The Fantastic Four origin story was written by Stan Lee and co-written by writer, editor, and artist Jack Kirby. The debut of these superheroes dates back to November 1961 with Fantastic Four #1.
This fictional team consists of Reed Richard, Mister Fantastic, team leader and scientific genius. This character has the distinction of stretching his body into incredible lengths and shapes. Susan Storm, known as "Sue", the invisible woman. She eventually marries Reed, who can turn invisible, in addition to projecting powerful force fields.
Johnny Storm, Sue's younger brother, is the Human Torch, who can generate flames, surround himself with them, and fly. Finally, we have Ben Grimm. He is the grumpy, caring friend known as The Thing. This character was a former college football star, where he was Reed's teammate. Additionally, the Thing is a good pilot with incredible strength and superhuman stamina. This power is due to the nature of his skin, which is akin to rock.
These four members changed forever when they performed an experimental spaceflight. In this mission, they are exposed to cosmic rays, which grants them superhuman powers and abilities.
After making this trip and realizing the mutation they had undergone, the four vowed to stay together as a team. Due to their powers, they became celebrities, and by exploring the uncharted regions of the universe, they gained celebrity status.
The importance of this story for the plot of the film
Image via Marvel Entertainment
The origin story of the The Fantastic Four is significant because they are the first family in the Marvel Universe, making them so much more than just superheroes. Which formed the lifeblood of comics, especially Marvel Comics as a publisher.
From the start, these members were portrayed as somewhat dysfunctional. But a very loving family that breaks by all means, with other comic strip archetypes of the time. Throughout their journey, we see how they fight and hold deep, small grudges, but that hasn't stopped them. Their fundamental principle has been to keep their identity anonymous in favor of celebrity status.
In the Marvel Universe, this family is well known for their dangerous and recurring encounters with Doctor Doom, the evil monarch. They also have recurring encounters with Galactus, the planet-eater, Namor, the prince of the sea, Silver Surfer, the space traveler, and Skrulls, the shapeshifting aliens. It is therefore not for nothing that they cause a sensation.
Featured image via Marvel Studios
Comic book enthusiast, NFT and blockchain writer, and Spider-Man fanboy.