In the 1800s, a poor family sees their life changed when a mysterious benefactor offers them an imposing house. In the present day, an industrious property developer – who happens to be a mouse – is pushed to the brink by his foiled attempts to sell his luxury renovation. And in the near future, a feline owner discovers both rising floodwaters and her fear of change that keep her rooted in this increasingly perilous place.
These intriguing vignettes make up The House, the stop-motion animation produced by London and Los Angeles-based Nexus Studios and directed by four different filmmakers – Emma De Swaef and Marc Roels (Part I), Niki Lindroth von Bahr (Part II) and Paloma Baeza ( Part III) – which debuted on Netflix in January. The genesis of such an ambitious project is nevertheless surprisingly simple: bring together these creative forces and see what alchemy occurs.
"The main driving force was this idea of ​​bringing them together around a table and seeing what came out of this collaboration," explains producer and co-founder of Nexus, Charlotte Bavasso, who first approached the filmmakers, with who the company had worked on previous projects. , in April 2019. "They had all tackled similar subjects in their films – deep, dark, clever themes that they addressed through the use of stop-motion."
Bavasso knew she would have to walk a tightrope to ensure that each filmmaker had creative freedom and that the parts came together as a cohesive whole. "I saw that as my primary responsibility on this project," she says. "What was essential for me was that we fully respect the individual authorship of these filmmakers and that each film could stand on its own. But we worked on an overall concept, and we talked about the evolution of time. house is a witness, indeed, of human follies – even if some of them are animal – through three generations.
"It was such a unique experience – you don't normally get to work alongside other filmmakers in this way, sharing different perspectives," says Baeza, whose directing Part III of The House comes as she works with Nexus on a TV series adaptation of Poles Apart, her 2018 Bafta-winning National Film and Television School graduation short.
"Charlotte saw the things we have in common – this dark humor and absurdity," she continues. "We each came up with a synopsis of a story that took place in the house. The different timelines happened organically; we left to reflect and came back with the three stories that fit naturally into a past, present and future structure.
That's when Bavasso approached Netflix with the project, and the streaming company immediately jumped in. "We met in Annecy and discussed the project. I wouldn't even call it a pitch, it was really a conversation, and they could see we were so passionate," Bavasso says. "They knew the directors and saw their talent. They said it was obvious. It was an easy collaboration because the confidence they had in us was immense.
Themes of climate change and humanity's relationship with the environment have formed much of Baeza's earlier work, but his original idea for The House was to explore a mother-daughter relationship. "Then I was watching a David Attenborough documentary and saw a flooded road that looked amazing, with unique properties that looked like islands," she recalls. "I wondered who would stay and why. The idea evolved as I worked with [screenwriter] Enda Walsh, and the house became more of a character.
Key to the sense of cohesion that runs through the stories is the fact that Walsh, who co-wrote Hunger with Steve McQueen, wrote all three scripts, working with the filmmakers to develop their concepts into a 30-minute narrative. "We went through so many different releases," Baeza says. "We weren't afraid to try something and then completely throw it away and start over."
Chat calls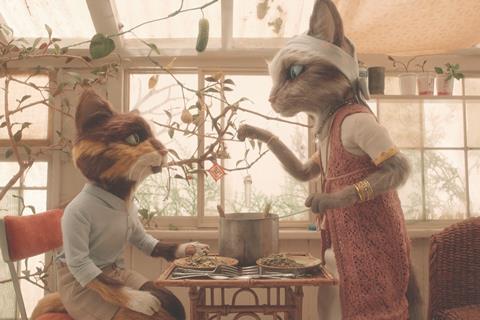 What was ever present, however, was the idea that Baeza would tell his story using cats as characters – that Lindroth von Bahr's protagonist is a mouse is a happy coincidence. In the center is Rosa (voiced by Susan Wokoma), the owner of a ruined house who refuses to acknowledge the encroaching floodwaters. "I love anthropomorphism," says Baeza, whose Poles Apart tackles similar issues through the rocky friendship between a polar bear and a brown bear. "It separates you and allows you to be universal in different ways."
The star-studded vocal composition is another draw, with Helena Bonham Carter, Paul Kay and Will Sharpe among Baeza's story voices, and Matthew Goode, Jarvis Cocker and Mia Goth appearing elsewhere. "It's the silver lining of Covid-19," says Bavasso. "Live-action was tough, a lot of projects were cancelled. And everyone could see our ambition, the quality we were trying to achieve, and could understand what they were involved in. They all threw themselves into it."
The production teams were based in different countries – De Swaef and Roles in Belgium, Lindroth von Bahr in Sweden and Baeza in the UK – so it was always expected that most of the pre-production would take place remotely. It was something the pandemic also made necessary.
"We had been working for a month like this [prior to lockdown]", notes Bavasso. "We would have liked to see each other a bit more, though, and from a production perspective it added a whole new layer. But I didn't want to shoot it in three different locations; I managed to making sure every one of them would be on set [at Mackinnon & Saunders studio in Altrincham, near Manchester]to ensure that there was a symbiosis between the three.
It was also facilitated by the sharing of some main creations, notably the Oscar-winning composer Gustavo Santaolalla (Brokeback Mountain, Babel) and set designer Alexandra Walker, who created the central house which, although used differently in each of the stories, is recognizable throughout. "It's the staircase, the Georgian facade, but it's also the little details like the bug [a key feature of Lindroth von Bahr's vignette] running under the floors of Paloma's story," says Bavasso. "It was always about allowing three artists to explore their own stories and giving them a platform they never had before. Netflix offers them potentially 200 million viewers.
For Baeza, the impact of The House isn't just his creative accomplishments, but the fact that he exists – and especially on a platform like Netflix. "There is always the problem between cinema as creativity and business, and you have to be realistic," she observes. "But when you have people brave enough to support something different, it's life-affirming."